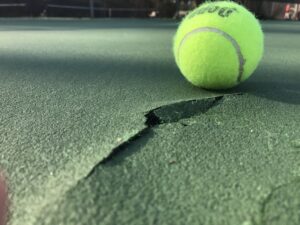 In 2016, as part of our flood recovery, our Director of Tennis donated funds to resurface our hard courts. Hard courts typically need resurfacing every 4 to 8 years to ensure player safety and court playability. So after 6 years of normal wear and tear, compounded by water drainage issues which have been significantly resolved, the extensive cracking on Murraywood's 4 hard courts is the sign that it is resurfacing time!
Resurfacing costs have almost doubled over the past 6 years. The extensive damage requires extra labor and materials to repair and prices have risen dramatically due to supply chain issues and inflation. The projected overall cost to resurface our 4 hard courts is $38,000.
The Tennis Committee is pursuing several avenues of extra income including USTA Facility Grants and a variety of fundraising events (t-shirt sales, tournaments, social events). But some members have asked if they could donate directly. Um, yes you can!
Our goal is to raise a significant portion of the funds for resurfacing ($28,000) through donations by July 31, 2022. If you would like to donate, direct payment by check maximizes the value of your donation since we do not have to pay any processing fees. But if you would prefer to pay by credit or debit card, please feel free! Donations, however small or large, using any method whatsoever, will be joyously appreciated.
Donors will have their names placed on a plaque of appreciation in the gazebo (names only, not donation amounts) or you can choose to be anonymous. And we would love to put your name in a category of support as outlined below.
Categories of Support
Clay Player:

Resurfacing the hard courts helps clay players by reducing competition for clay (we do have members who prefer the hard courts) and offering a play option when the clay is too wet.
I Love Hard Courts: No cleanup afterwards!

Junior Tennis Family: Our junior tennis program is taught almost entirely on the hard courts. Teaching youngsters is essential to keep our sport alive!

Passionate Pool Member/Future Tennis Player: It looks so fun!

We Just Love Murraywood:

Explains itself, right?